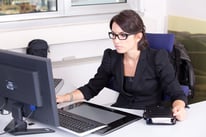 With today's technology, more and more people are setting up home-based businesses. However, many of these ventures are vulnerable to huge financial losses in the event of fire, theft, natural disaster or other catastrophes.
That's because nearly 60 percent of home-based businesses are not insured and many of them don't even know it, according to a survey commissioned by the Independent Insurance Agents & Brokers of America.
Respondents were under the mistaken belief that homeowner's insurance covered their home-based companies but these policies typically exclude losses due to business activities. Uninsured business owners not only risk losing their equipment, inventory and important records, they are also in danger of being held liable if a client is injured slipping on a step while visiting the home office.
If you have a home-based business and standard homeowner's insurance, there are a few options you might want to consider:
A home office policy, which covers items such as loss of records, certain off-site property and possibly lost income in the event of a fire, theft or other disaster.
A "business pursuits" or "incidental business" endorsement, which can be added to your homeowner's policy.
A business owner's policy, which is more inclusive for liability, property damage, data loss, theft and even the structure housing your business.
Don't take chances with your livelihood. Contact our office to discuss options for protecting your home-based business property, as well as other coverage such as life, health and disability insurance.